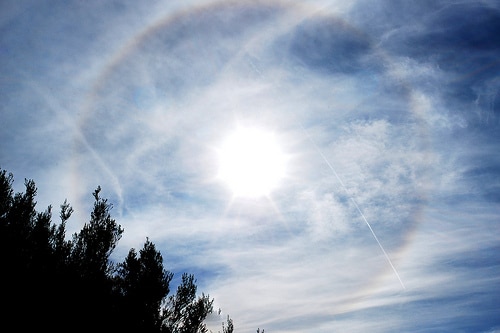 6 Cool Solar-Powered Machines (w/Videos)
The sun provides an amazing amount of natural energy each and every day.  It's a resource, that thankfully isn't going to disappear anytime in the near future. However, surprising enough, until recently it hadn't been gaining the wide-spread popularity that some said it should.
Image by Ricardo Samaniego
I mean, with the cost of fossil fuels (both financially and to the environment), alternative energy options are finally being sought after and are in high demand. Everything from wind energy to tidal energy, from algae biofuels to solar powered energy and more.
So since we're on the subject of alternative energy and solar power, let's take a look at some really cool ways people have tapped into the power of the sun to run these solar-powered machines:
1) Solar Powered Plane: Wouldn't you love to take a trip in a solar-powered plane? Personally I think it would be pretty cool. And as you've probably heard, the Solar Impulse is the first solar-powered aircraft to complete an international flight. It also holds the record for the longest solar-powered flight. Now, as you can see from the following video it's not a very fast airplane, but it is solar-powered and that's pretty cool!
2) Solar Powered Car: Another great machine is the solar-powered car. Designed and built by students, this particular solar vehicle is completely powered by solar cells. Even though it only generates enough energy to power a toaster, that same amount of energy was enough to secure it in the Guinness Book of World Records for the fastest solar car in the world.
3) Solar Powered Carousel: Now this is one you may or may not have seen before. The solar powered "Carousolar". Debuted at SXSW 2011, this solar powered carousel shows that even your fondest childhood memories can go solar! Put together by GE, the "Carousolar" is a traditional carousel, except it is white and it's powered by 100 80-watt 'thin film' solar panels. Now, how cool is that?! Just take a look at how they brought this solar machine to life:
4) Solar Powered Eco Train: I love trains, so this is one I think is pretty cool. Designed by an Argentinian industrial designer as part of the Bombardier train competition, the Inter Urban Eco Train was 100% designed with local transit services in mind. A clean, eco-friendly way for commuters and students to get to and from work or school. It's powered by solar and better yet, it generates zero carbon emissions. Read here for more information and pictures of this innovative form of urban transportation.
And check out this video for more information on Bombardier Transportation:
5) Solar Powered Boat: I'm sure you've heard of the Turanor, the world's largest solar-powered boat. If not, the Turanor set out in September of 2010 intent on being the first boat to circumnavigate the globe powered only by solar energy. It was a big goal and a long "road" ahead, but they are doing it. You can check out the original unveiling of the Turanor in the following video. Then to get the most up-to-date information on the Turanor and where it is on its journey, go to Planetsolar.org.
6) Solar Powered Theme Park: Of course, if the above solar-powered machines don't float your boat (pardon the corny pun), how would you like to see an entire theme park powered by solar power? I know I would!
Unfortunately I don't have any video or pictures of this one yet, however it's one I plan on following. Announced in January of this year, Devon's Crealy Great Adventure Park intends to become the first theme park in the UK to run its roller coasters on solar power. I know I'd love to check it out in person! How about you?
When you think about it, one of the nice things about solar power and solar-powered machines is that the possibilities are endless. So many things that currently use other forms of energy or fuel can be engineered to run on solar. What's your favorite solar-powered machine?