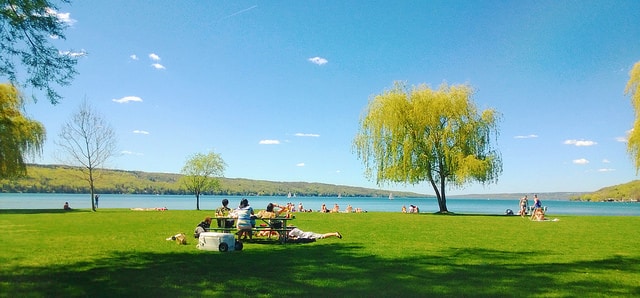 4 Eco-Friendly Plastic Alternatives For Your Summer Picnics
With the 4th of July right around the corner, as well as the "Plastic Free July" campaign going full blast, I thought I'd give you some eco-friendly plastic alternatives you can use for your holiday celebrations or on any of your summer picnics. Why? Well, as you know, plastics are extremely harmful to the environment. Not only does plastic waste contaminate our rivers, streams and oceans, it can put wildlife and sea animals in life-threatening situations. In addition, plastic bottles take hundreds of years to break down and plastic bags take even longer. As these items break down we're left with micro-plastics polluting the environment because these items aren't fully biodegradable.
So, doing what we can to wean ourselves off of the single- or one-use plastic habit will be beneficial to mankind and the world in which we live.
Eco-Friendly Alternatives to Traditional Plastic Picnic Items
It's not really difficult to make the switch. A few, minor changes can make all the difference. You'll also find there's far less waste when you're done with your 4th of July party, backyard BBQ, summer picnic or other celebration if you choose eco-friendly alternatives over traditional plastic picnic items. Give these a try and see:
1. Reusable Drink Bottles and Dispensers
Instead of providing plastic cups or using traditional coolers to store and dispense your drinks, why not provide reusable products? You can either ask guests to bring their own reusable cups and bottles or you can give each guest one as a party gift. In addition, you can decorate your drink table with glass drink dispensers. Not only is it easy for your guests to see what beverage each dispenser contains, but it's more eco-friendly.
2. Bamboo Dinnerware and Compostable Wooden Cutlery
Many of us grew up using paper plates and plasticware when we went camping, had a picnic, were at a BBQ, went to the beach or had any other outdoor activity where we ate outside. Unfortunately doing so created a lot of unnecessary waste. Luckily today, we have eco-friendly alternatives. Instead of using plasticware and paper plates, you can opt for bamboo dinnerware and compostable wooden cutlery. If you don't want to buy items, ask your guests to bring their own dishes from home. It'll make your picnic table a little more eclectic and definitely colorful.
3. Glass or Stainless Steel Straws
Plastic straws are being banned in cities, states and countries around the world. In many cases, straws at a picnic or BBQ won't even be necessary if you're using reusable bottles and cups. Should your guests want to use straws, offer glass or stainless steel ones. These are eco-friendly and guests can take them home at the end of the day.
Trust me, they'll probably become addicted to these eco-friendly straws. They're really nice to have when you get the urge to use a straw.
4. Reusable Containers Such As Those Made with Stainless Steel or Compostable Materials
Now comes the issue of how to get the food you're going to serve to your 4th of July celebration or picnic and your leftovers home. Instead of packing it all in plastic containers, try using reusable bowls and pans you have at home (covered with an eco-friendly wrap instead of plastic wrap of course), or getting some stainless steel containers with lids. Containers made with compostable materials are another great idea. So many options exist these days, it shouldn't be hard to find a non-plastic alternative to fit your needs.
While these actions are only the beginning of living plastic free,  your 4th of July celebrations and summer picnics are a good place to launch or forward your plastic-free goals. Remember to #choosetorefuse whenever possible.