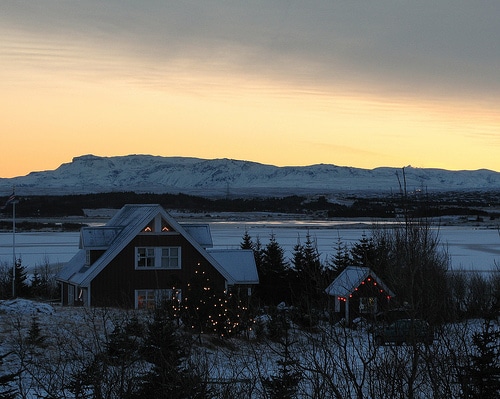 20 Eco Holiday Tips and Suggestions
Image by Kristin Sig / Creative Commons
The year is moving along so quickly. Although it may not seem like it, the holidays will be upon us before we know it. Of course, when it comes to holiday planning, now is the time to get started. Waiting until the last minute simply means you'll be scrambling, paying more and probably missing out on many eco-holiday options.
So, for those of you looking to get a head-start on your holiday planning, here are 20 eco-holiday tips and suggestions:
1 – Give time instead of gifts. Most people have plenty of material objects. What they don't have is the quality time to spend enjoying friends and family. Try spending a little less money and a little more quality time.
2 – If you are going to give gifts, shop early and shop at second-hand stores, yard sales or consignment stores. In most cases, there is no reason to buy new when you can find great used gifts.
3 – Make your own holiday decorations. Autumn leaves, pine cones, and more can all be gathered up and brought inside to make wall and table decorations, holiday cards, centerpieces and more.

4 – Do you have a family member who can't live without their coffee or chocolate? If so, make your purchases from companies who sell fair trade products.
Image by hayouji / Creative Commons
5 – If you plan to do any shopping online, look for green packing and shipping options before you buy.
6 – Instead of buying cut flowers to decorate your home or give as gifts, opt for potted plants or flowers. They're a more eco-friendly option and can be either kept in your home year-round or planted in your garden after the holidays.
Image by Kevin Phaines / Creative Commons
7 – Plan your holiday meals ahead of time. If you plan enough ahead of time, you may be able to grow your own produce. There is nothing like the taste of fresh fruit or vegetables over the holidays. Anyone up for some apple or pumpkin pie?
8 – Having family over for the holidays? Make some natural cleaning solutions and do a little spring cleaning, I mean fall cleaning, during the days and weeks before they arrive.
9 – Open your windows regularly in order to naturally air out your home. Don't let indoor air pollution ruin your holidays.
10 – Recycle bags, boxes and other items you can use to wrap holiday gifts. It's better than buying a bunch of wrapping paper that is only going to get one use then head off to the landfill.
Image by Mike Willis / Creative Commons
11 – Spend some time enjoying the great outdoors at least once every day. Go for a walk, breathe in the crisp air, relax and take a moment to freshen your heart and mind.
12 – If you are planning a holiday event, how about a good old potluck where each person brings a different dish, along with their own reusable dishes, silverware and more.
13 – Speaking of holiday events, encourage your guests to carpool or set up eco-friendly transportation options that will help them cut costs and lower CO2 emissions.
14 – When having lots of guests over to your home, remember to turn down the thermostat by a couple degrees. Body heat from your guests will help keep your place warm.
15 – Before you end up shorting out the entire neighborhood in an attempt outdo the Griswold house from the movie "Christmas Vacation", you might want to check out solar lighting.
16 – If you have a lot of driving you need to do over the holidays, combine errands and other activities into one trip.
17 – Add a little Green Plus® gasoline fuel saver and you'll be able to reduce the pollution coming from your car, while at the same time improving your fuel economy throughout the holidays and into the new year.
18 – Make donations of time, goods or money. If you don't know what you want to do, check out the Pay It Forward Foundation: 1 Act of Kindness Can Change Everything.
19 – Go simple. Holidays don't have to be difficult. Going simple could be the simplest way to make your holiday season a lot more eco-friendly.
20 – Throughout the holidays make the decision to reduce, reuse and recycle.
Holidays should be a time where we can enjoy the company of friends and family. A time when we can unplug from our digital lives and enjoy a little time outdoors, soaking in the beauty of nature. Holidays shouldn't be the commercial, consumer-driven activity they seem to have evolved into, don't you agree? What is your favorite eco-holiday activity? What tips do you have for making the holidays less consumer-driven and more eco-friendly? I'd love to hear them!