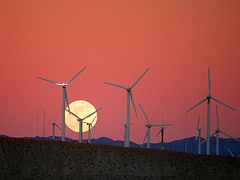 Wind Energy: 8 Ways to Collect It
Wind power is becoming an ever-increasingly popular way to collect energy. Just last year the wind power industry grew an impressive 31% despite the economy. It is now estimated to be a $63 billion/year industry, employing around half a million workers worldwide.
However, like solar farms, there is only a limited amount of land that can be used for wind farms before we completely remove the beauty and necessity of Mother Nature in favor of renewable energy. So, what can be done?
Luckily people continue to imagine and design new ways to capitalize on the power of the wind. Let's take a look at some of the "standard" and not-so-standard ideas for catching the power of the wind:
First we start off with some traditional wind turbines like the kind you find on your way to Palm Springs, CA. These particular turbines are part of one of the three major wind farms that produce approximately 95% of California's wind generating capacity. The large turbines are designed to take the motion of the wind, turn it into mechanical energy which is then converted into electrical energy.
One major downfall with this type of wind energy is that the average wind farm can require up to 17 acres of land to produce one megawatt of electricity. So wind farm land resources are limited.
This "highway turbine" was thought up by an Arizona State University student. The turbines are designed to pick up wind generated from passing cars. Since the turbines are placed over the freeway, cars passing underneath will be traveling 65-70 mph on average which will allow each turbine to produce approx 9.6 kWh of energy annually. That's enough to light up a small apartment or help power the street lights on the freeway.
The energy storing wind dam is a "compact" solution to wind turbines. Wind dams are designed so they can be added on to an existing dam or hydro-power station. Attaching it to an existing hydro-power station could also allow it to help boost energy during peak times and store energy during off peak times.
Another one of the great things about wind dams is the turbines are closely stacked together so the whole dam operates as a single turbine essentially. And rather than needing a large piece of land in order to place individual turbines, the wind dam puts multiple turbines all in one compact area.
Here's a different take on the wind turbine via a sort of "wind sail". This particular dam was reportedly anchored to the cliffs near Northern Russia's Lake Ladoga last year. The design is similar to the sail on a sailboat and each sail will be able to generate enough energy to power 35 homes. Efficiency of the wind sail is still being worked on, but it's a start.
Promoted as the world's first "high altitude wind turbine", the Magenn Air Rotor System (or M.A.R.S. for short) is designed to fly high above the rest. It labels itself as being bird- and bat-friendly, low cost and able to tap into more reliable winds due to its high altitude. The turbines are able to be inflated and deployed almost anywhere. They are also made of a material that allows them to quickly be deflated, packed up, moved and re-inflated without the need for towers or heavy equipment. Take a look at this short video to give you an idea of how the air rotor system works:
For those who don't want to go up with their wind energy collection, they can always go out…out to sea that is. Offshore wind farms are getting more attention these days as companies look for wind catching solutions to solve the "lack of open land" problem.
Cape Wind is one of those companies. They are working on placing America's first off-shore farm a few miles out in Nantucket Sound, off the Massachusetts shoreline.
Of course, there are also groups that oppose having wind farms off their shoreline. But what's interesting, is they aren't necessarily opposing the off-shore wind farms all together, they just believe there are places better suited for them, rather than Nantucket Sound. What do you think?
I like these turbines in particular as they are designed to be aesthetic (not an eye-sore). They also use the wind they are generating to power the street lights they are attached to. It's similar to the "highway turbine", but this wind powered light seems to have a broader use and is, in my personal opinion,  a better option.
The Helix Wind Turbine (a vertical axis wind turbine) is a simple idea, especially when you don't have a lot of room or want a huge spinning turbine on your property. Designed mainly for residential and small commercial properties, the Helix is also a good choice for low wind areas as its design is sculptured to allow maximum access of the blades.
Now, these aren't all nor even necessarily the best ideas on how to capitalize on wind energy. And, if you're interested you can check out thewindpower.com (the wind turbines and wind farms database).
But hopefully you get the idea that there are many different ideas out there on how to generate energy through wind power. What about you? Do you have any creative ideas on how to capture the power of wind?