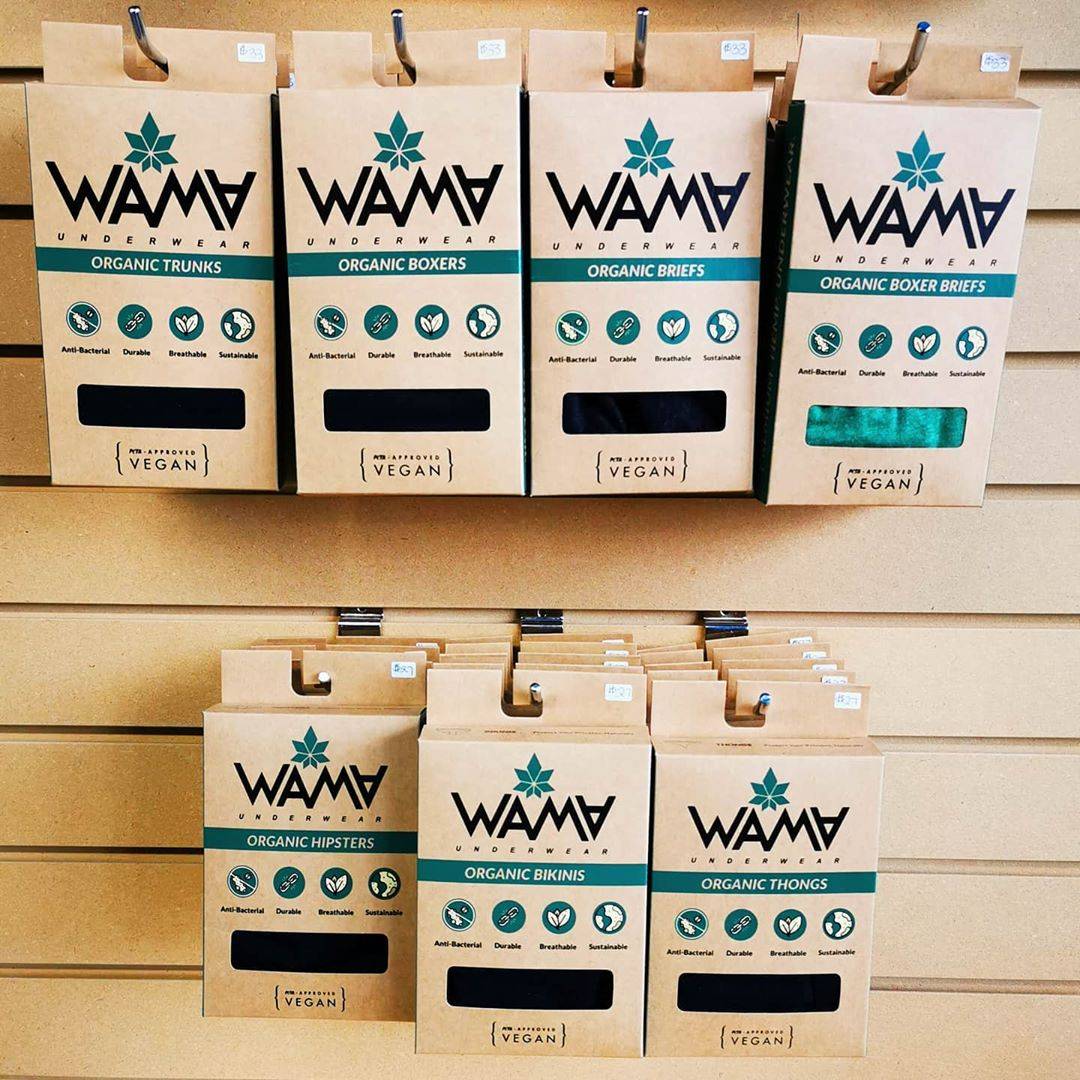 Why You Should Check Out Hemp Underwear by WAMA
If you're interested in going green, or at least living a more eco-friendly life, you'll want to know what materials were used to make the products you buy, as well as the process used to make them. You'll also probably be interested in knowing whether the product is good quality and worth your money. We couldn't agree more. So, we decided to help you out and do a little research ourselves. Our first clothing product review is of the hemp underwear by WAMA. We wanted to find out first hand why it's all the rage right now.
Please note, in the interest of transparency, WAMA did provide us with the underwear to check out and review. But the reviews and viewpoints are solely our own.
Conventional Clothing Is No Longer the Norm
As you probably know all too well, many of the items of clothing you've purchased over the years have not been made with sustainable or vegan materials. These products, and the factories in which they were made, were likely responsible for causing some level of harm to the environment and those in it. How much harm depends on the type of materials, the manufacturing process and much more.
In this day and age, more companies are opting for sustainable manufacturing practices, slow fashion and vegan materials. Eco-fashion is taking precedence, which means conventional clothing is no longer the norm. Now, we can choose to buy products made to last and know we are minimizing our environment impact in the process.
Benefits of Using Hemp
Hemp has numerous benefits over more "traditional" clothing materials. To start, hemp is about four times as strong as cotton. This means it is more durable and won't wear down as quickly after washing. Hemp is also better at retaining color. Hemp-made clothing is therefore less likely to fade. So, it'll last longer and you won't have to buy new as often. Hemp is touted as naturally resistant to bacterial growth and, therefore, prevents odors. This is a quality we all want in our clothing (and other products). It's breathable and quite soft, as well.
One of the other major benefits of using hemp is it doesn't require much water and is an extremely sustainable crop. It has very little impact on the environment while being grown and harvested.
All of these qualities and benefits makes hemp an ideal material for clothing you put right up against your skin, like underwear.
WAMA Underwear Product Review
For our test, we opted to order 3 pairs of underwear, one for each of us (myself, Noel and Jacob) to try. Here's how the WAMA underwear fared in our opinion:
Packaging:
The packaging and speed of delivery were two, extremely positive aspects of the WAMA purchase. The order arrived in a very timely manner. It also arrived in a bag made of recycled materials and one which could be recycled again. When I opened the outer package, I was pleasantly surprised to find no additional plastic bags or wrapping instead. It was just the underwear by itself. No unnecessary tags or anything.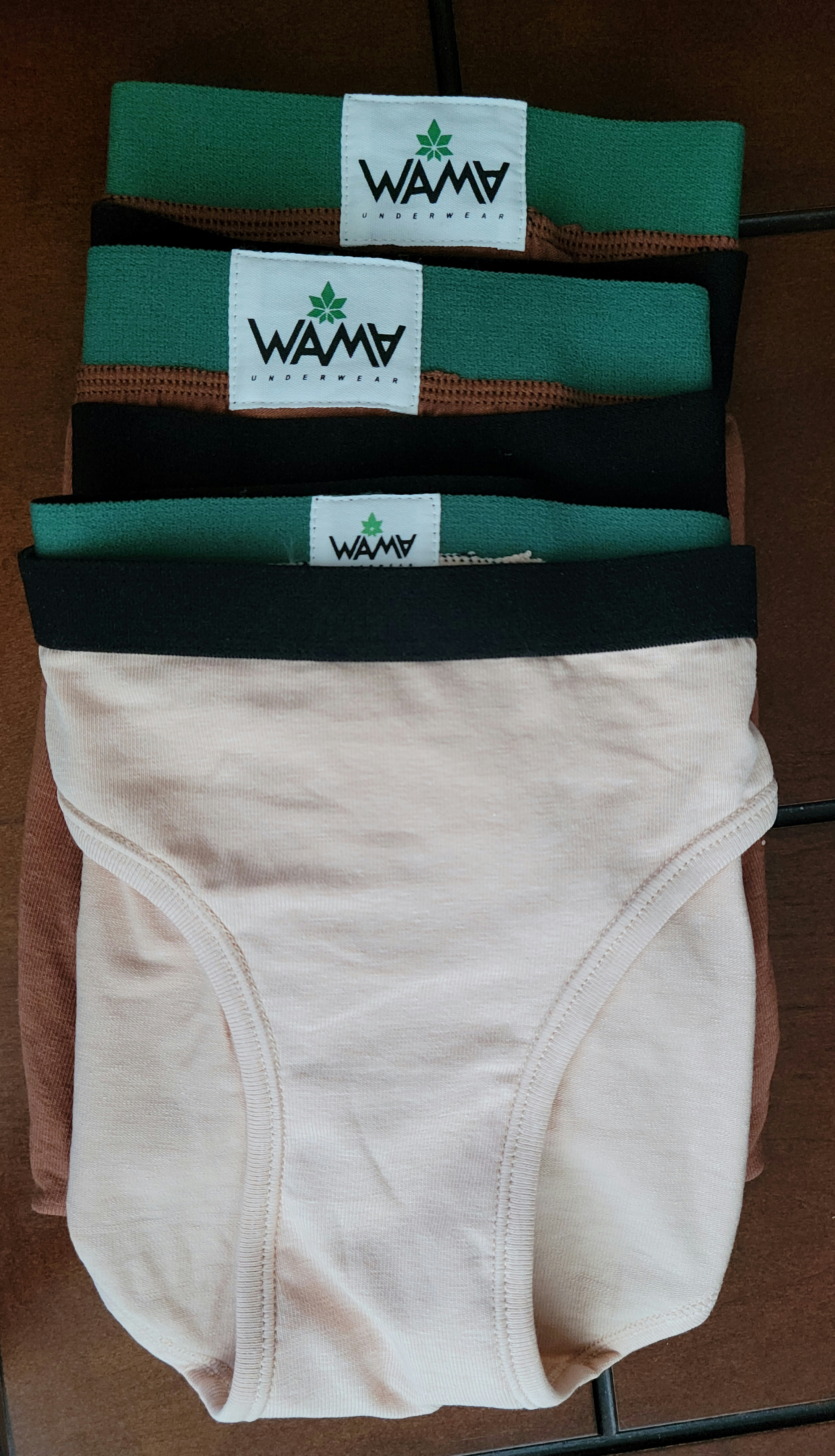 Product:
The underwear seemed to be well-made. Sizing was accurate and the feel/look was right on the mark. The colors were strong, yet had natural tones to go along with the sustainable theme.
Quality:
I thought the underwear was good quality. It was comfortable and seemed to be well-made. It was soft, after washing, and definitely something I'd wear regularly. Knowing it's a more eco-friendly alternative makes it a great option.
Here's what Noel had to say, "The first wear was not as soft as I'm used to, but it was to be expected from something out of hemp. Good support. Overall I'd say they were a nice pair of underwear."
Jacob's thoughts were similar, "They were comfortable and snug. Only thing I noticed was my body heat didn't escape them as easily as regular underwear. Could be just a little more breathable, but still surprisingly similar to cotton underwear." Jacob also noted the underwear did seem to get softer after the first wash and wear, which is what the website states will happen, so that's good.
Feel:
WAMA underwear is advertised as extremely comfortable and well-made. I'd have to say I agree. It's soft and holds up well after washing. Jacob and I both noticed the underwear seemed to be even softer after a subsequent wash.
Cost:
Price is more on the high-end of underwear. However, since it's a better option due to its lower impact on the environment, and it hopefully lasts longer, the price should balance out in the long run. My opinion is it's worth the investment.
Overall rating:
Overall, I'd say WAMA has a great product line here with their hemp underwear line. Yes, it is may be a bit more costly than a lot of underwear you'll find out there, but I suspect it will hold up a lot better, too. This means you'll have to buy less often, so it kind of evens out. My only hope is someday they will be able to have grow and manufacturing operations to the United States. In the meantime, I do appreciate they are a vegan company who use small, family-run, organic farms for their product.
In Summary
With some companies attempting to greenwash their business in an effort to appear more environmentally-responsible, it's important you know before you go. In my opinion, WAMA seems to be the real deal. They are upfront with their products, and their operations, and seem to be working hard to deliver an eco-friendly product we all can enjoy.
Try WAMA for yourself. Use the discount code, "Biofriendly", to get 15% off your first order. I think you'll like the product(s) they have available. We sure did! Once you give it a try, let us know what you think.