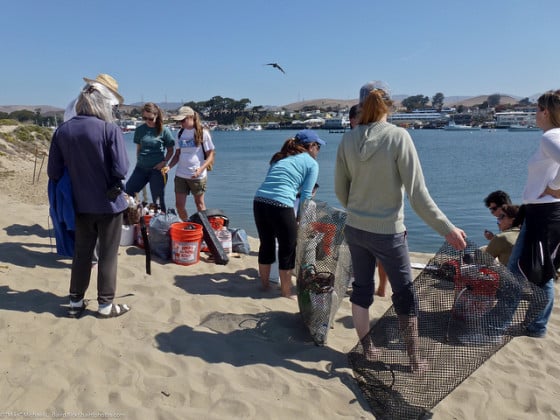 The Environment Needs You: Coastal Cleanup Day
No matter who you are, what you do or where you live, your actions have a direct impact on the environment around you. Unfortunately, the true effects of our actions (and inactions) are not always visible. We don't necessarily see how the soap and detergent someone uses to "clean" their driveway gets into the sewer system and makes its way out to the local rivers, streams and even all the way to the ocean. The emissions and pollution vehicles spew out while people sit idling in parking lots, at red lights, at their children's schools or while stuck in traffic, is not always visible to the naked eye. While people may be aware of the fact that the waste they generate on a daily basis is having a negative effect on the environment, since most people live nowhere near landfills and other waste collection facilities, the magnitude of the problem doesn't necessarily sink in enough to cause a change. Despite people seeing trash polluting their local park, find garage littering the coastline at their favorite beach, or hear news and other reports about how our daily routines are hurting the environment in which we live, they don't always connect the dots.
That is why events like Coastal Cleanup Day are so important. With so many people joining together behind one common purpose and one common goal, we can make a difference.
To get a better idea of the environmental impacts we, as humans, have on this planet check out the following infographics. They will not only give you some good information, but they might also give you an insight into how Coastal Cleanup Day and other similar events can help the environment, educate people on the urgent need for change and make a difference in how we conduct our day-to-day lives.
So, whether you already have plans for this weekend or not, you owe it to yourself, your family and future generations to take a little bit of time out of your day and participate in a Coastal Cleanup Day activity near you.
Last year over half a million volunteers came out for Coastal Cleanup Day. They cleaned up beaches and waterways in 97 different countries across the globe. Volunteers helped remove over 10 million, yes million, pounds of trash including cigarette butts, food wrappers, plastic bottles and bags, caps, lids, plastic cutlery, straws, glass bottles, cans, paper bags, and more. Just take a look at the infographic on the right which gives a clear insight into the amount and types of trash that have been collected by volunteers on Coastal Cleanup Day over the last 25 years or so.
It's not hard. It's something that you can do on your own, with your kids and family, or with a group of friends. For those of you living in or near Los Angeles, here is a list from Heal the Bay of all the Coastal Cleanup Day sites in Los Angeles and the surrounding areas. All you have to do is show up between 9am and noon to lend a hand.
For other Coastal Cleanup Day activities and events around the world, go to the Ocean Conservancy's website to find a cleanup site near you. If you can't find an event/group near you, then start your own. No matter how many people are helping to cleanup trash and debris from local waterways and along the coast, every little bit helps.
Don't forget to share this information with your friends and family via social media as well. Tweet about the event using the hashtag #2013cleanup and post your pictures via Instragram, Pinterest, Facebook, Flickr and more.