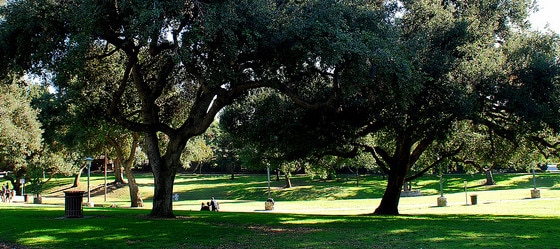 So Cal Park First in Country to Become a Certified Zero Emission Green Zone
On Thursday, February 26th, the City of South Pasadena's Garfield Park is schedule to receive its official certification from the American Green Zone Alliance for becoming the first municipal park in the country to achieve the status of a "Certified Zero Emission Green Zone." In an effort to keep its city beautiful, and lower the harmful pollutants residents in the local community are exposed to on a daily basis, South Pasadena has opted to use only battery-electric lawn equipment and hand tools in the park maintenance process. What this means is that this residential neighborhood park is now able to be maintained 100 percent gas and emission free, an accomplishment well worth the recognition.
If you are unfamiliar with its work, the American Green Zone Alliance is a member-based organization committed to educating individuals, groups and businesses on and facilitating the use of clean, quieter, gas-free and sustainable landscape maintenance and care equipment. This organization strives to minimize the landscape industry's impact in terms of emissions, gas and oil consumption, noise pollution, solid waste, toxic waste and other hazards to our health. This organization also provides certification and accreditation for those interested in employing zero-emission landscape maintenance strategies. Its goal is to "improve the quality of life and living standards" through its efforts.
Having lived in South Pasadena for many years, I am well aware of the natural beauty found throughout this city and in its Garfield Park. My kids have enjoyed many a day playing on the play equipment, running along the grassy areas and frolicking under the trees. So, it is very nice to see what Councilman Cacciotti and his fellow council members have been able to accomplish by turning Garfield Park into a zero emission green zone.
Sources:
Pasadena Now: Ceremony Will Mark Ecological Achievements of South Pasadena's Garfield Park
American Green Zone Alliance: About and Impact Realities
Garfield Park image by Joe Wolf via Flickr Creative Commons license.