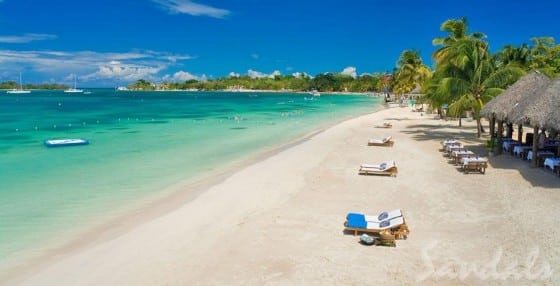 Sandals Earth Guard: Eco-Friendly Practices at Luxury Resorts
Flourishing businesses in the travel and tourism industry feel a strong responsibility to protect and preserve the communities and regions that have made them so successful. Sandals Resorts International is a Caribbean company at its heart. In fact, Gordon "Butch" Stewart, the founder of Sandals and Beaches, is Jamaican. He and the leaders of the company want to ensure that the area's exotic wildlife and beautiful beaches will be enjoyed by locals and tourists alike for many years.
By forming Sandals Earth Guard, the resort company (which encompasses all Sandals, Beaches and Grand Pineapple hotels) has made a promise to the islands that they will aid in the preservation of Caribbean ecosystems, reefs, animal life and more. In addition, the Sandals Earth Guard initiative has developed many resource management programs that assist in the conservation of the planet's environment as a whole.
In 1997, Sandals Resorts International became a leading hotel company in eco friendly efforts and environmental consciousness when the Sandals Negril Beach Resort & Spa became the first resort in the chain to receive Green Globe Certification, an accreditation awarded to businesses in the hospitality sector that have taken the necessary steps to endorse sustainability. All resorts then went on to receive Green Globe Certification. Years later, Sandals Negril was also certified by EarthCheck, an environmental management program at the forefront of the green movement, providing independent third-party auditing of Sandals' environmental management.
Since then, Sandals Resorts International is proud to say that all resorts participate in the EarthCheck program, and 15 of its 18 resorts have received EarthCheck certification, with four resorts achieving Platinum certification, an honor reserved for resorts that have consistently demonstrated their commitment to the community and to high standards of ecological care for ten years or more. As the only hotel company to achieve Platinum status for four different resorts, the Sandals Group strives to consistently make a difference in the environment and in the lives of Caribbean citizens.
Sandals Resorts International is committed to providing unforgettable vacations for its guests, while working to reduce environmental impact and preserve natural resources. The Sandals Earth Guard policy strives to protect the environment through the following programs:
Water Resource Management
Thanks to the water resource management practices enacted by the Sandals Group, the company's resorts have drastically reduced the amount of water consumed each night. In the 2011-2012 season, Sandals Resorts used an average of 776 liters per night, compared to a much higher 1,177 liters each night during the previous year.
To achieve this reduction, the Sandals Group has employed many water recycling and water efficiency initiatives. For instance, leftover greywater at the resorts has been used in irrigation systems, and discarded water from tables has been collected to nurture potted plants. Additionally, the Sandals Group has begun harvesting well water and rainwater to be reused at resorts like Sandals Grande Riviera in Ocho Rios, Jamaica.
Waste Management
Properly discarding and recycling waste are two important methods that Sandals Resorts International uses to reduce its carbon footprint. Each hotel recycles paper and waste oils, and sends cardboard, glass and plastics to local recycling partners. To safely dispose of computer parts and other electronic scraps, Sandals sells the recycled materials and donates the funds from each sale to the Sandals Foundation, the philanthropic extension of Sandals Resorts International.
Energy Management
As a result of Sandals' efforts to reduce energy consumption, the average amount of mega joules (a unit of measurement applied to energy usage) expended each night has decreased from 188.94 in 2010-2011 to 162.92 in 2011-2012. That overall decline was brought on by several energy management endeavors, such as re-engineered doors and windows for efficient air conditioning, as well as solar heating in resort pools. In addition, Sandals Resorts International has repurposed many of its hotel rooms to make them "intelligent" – installing smart thermostats and motion sensors for lighting. All of this, as well as daily monitoring of energy usage by dedicated Environmental Health & Safety managers, has resulted in increased energy efficiency at the company's resorts.
Control of Hazardous Substances
Before a Sandals, Beaches, or Grand Pineapple resort purchases a product or substance, the hotel managers employ a detailed and rigorous process to determine the sustainability of the material. Additionally, whenever new chemicals or equipment are incorporated into the operations of a resort, employees are provided with full training and preparations to reduce the potential of hazardous accidents.
Staff Awareness
To ensure that the entire Sandals team is keen on ecological issues, the Sandals Group includes environmental education and awareness into their orientations for new staff members. Through continued training and development, each Sandals employee is unremittingly dedicated to the preservation of natural resources, as well as the protection of the Caribbean environment. As incentives, the company provides monthly and yearly award recognition for the most environmentally-responsible staff members.
In addition, each property owned by Sandals Resorts International retains dedicated Environmental Health & Safety managers, who are responsible for encouraging and maintaining environmental stewardship throughout each resort team. All of these Environmental Health & Safety managers are EarthCheck Coordinator certified, and five of them have been recognized by the program as Master Trainers.
Social & Cultural Development
Sandals Resorts International also intends to spread environmental awareness to members of the Caribbean community through educational activities, such as teaching local students how to recycle materials, giving lessons to community fisherman about the benefits of marine sanctuaries, organizing Earth Day clean-up programs and planting vegetable gardens at nearby schools.
The Sandals Foundation
The Sandals Foundation, established in 2009 to further the company's passion of developing meaningful relationships with its Caribbean neighbors, raises and subsequently utilizes funds with the ultimate goal of providing beneficial and constructive community projects. Many of the projects center on directly improving the lives of Caribbean residents, through efforts like improving computer access, sponsoring book drives and providing free vision and dental care – but an additional branch of the organization is specifically dedicated to preserving the environment. Some of the projects in this division include funding turtle protection, helping to control invasive lionfish populations, planting trees to combat global warming and creating protected marine areas.
Sandals: Invested in the Future of the Caribbean
The Sandals Group strives to give back to the Caribbean through environmental consciousness and its unyielding devotion to the many wonderful inhabitants of the islands. To show its loyalty to these citizens, Sandals Resorts International created the Sandals Foundation and pledged its commitment to the Earth Guard policy.
Few other businesses in the hospitality sector have dedicated as much time and effort to the preservation of their exotic and beautiful surroundings. Since the inception of the company, Sandals Resorts International has consistently implemented cutting-edge eco-friendly practices, consistently showing its dedication to improving the environment and the lives of Caribbean citizens.
About the Author
As International Social Media Manager at Sandals Resorts (Unique Vacation, Ltd.) Tiffany Mullins leads a team that is changing the way the Sandals family of resorts communicates. Tiffany manages the Sandals and Beaches online community as well as the direction of Sandals Wedding Blog, which brings brides and inspiration together to truly create "Your Wedding. Your Style." Tiffany now resides on Paradise Island in The Bahamas. For more information on Sandals' all inclusive resorts, please call 1-888-SANDALS or visit www.sandals.com.
Biofriendly Blog would like to thank Tiffany for her eco-friendly guest blog post and for the information she was able to provide about Sandals Earth Guard. Copyright © 2013 Sandals.com