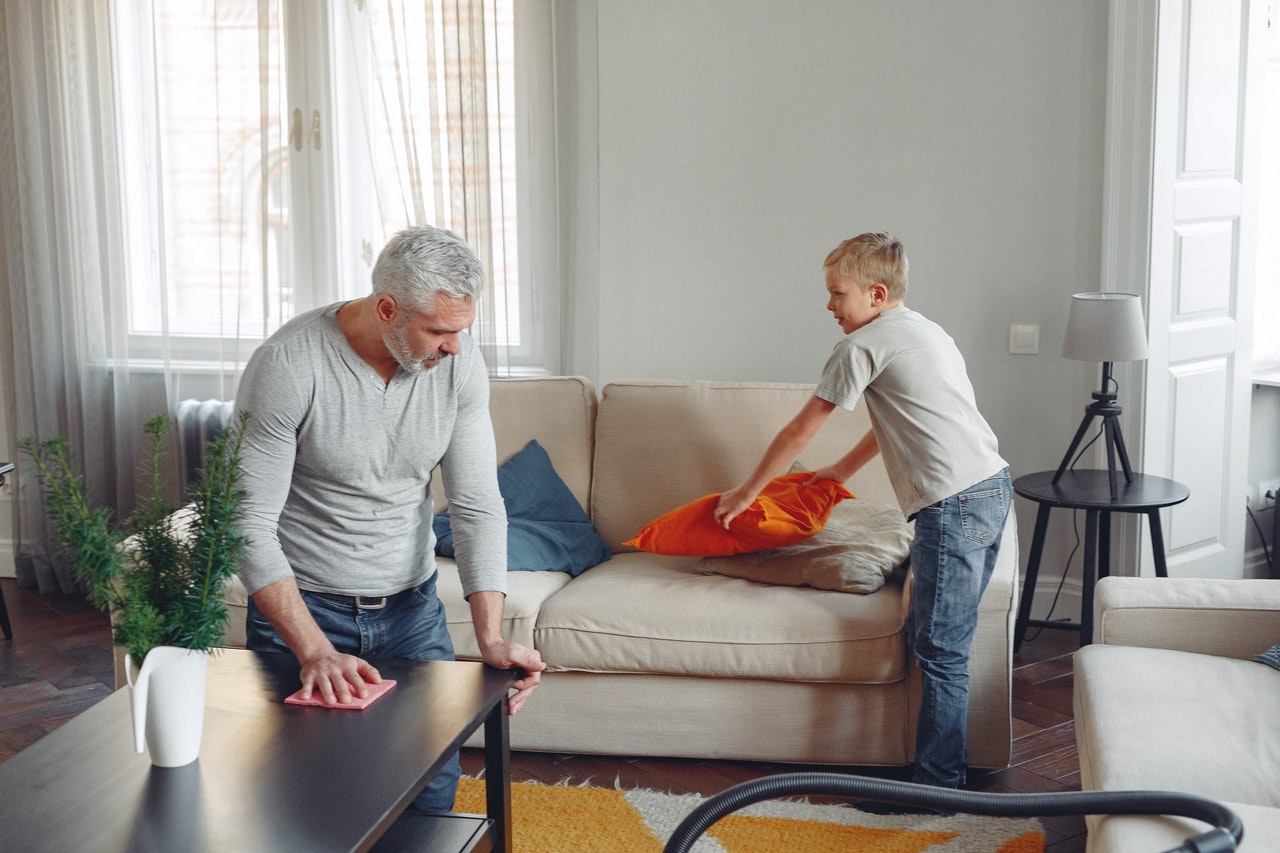 How to Jumpstart Your Spring Cleaning
Even though spring hasn't officially arrived, now is the perfect time to jumpstart your spring cleaning and give your home a fresh start for the new year.
This is especially important, because it's very likely you've been spending a lot more time at home than usual due to the coronavirus. Plus, it never hurts to take a few extra steps to get your home extra clean in a biofriendly and environmentally-safe manner.
Start With a List
Before you dive right in to cleaning your home, you should put together a list of what you want to accomplish.
Make sure you cover things like cleaning your windows, dusting, disinfecting countertops, sanitizing surfaces around your home, cleaning and deodorizing your dishwasher, giving your washing machine a deep cleaning and more.
Make Your Own DIY Cleaners
It's very important to remember organic, natural DIY cleaners benefit health and home. It kind of misses the point if you're going to do some spring cleaning, yet use toxic cleaners to do so. If you truly want to clean your home, you've got to remove the harmful toxins too. This is why making your own DIY cleaners is a smart move.
If you don't want to take the time to make your own, or don't feel like doing the research on which products are most eco-friendly, don't fret. This article from Greatist goes into detail on some of the best organic cleaning products on the market today. They also throw in a few more recipes for DIY cleaners, just in case you get inspired.
Let Nature Give You a Helping Hand
Opening doors and windows to help remove indoor air pollution is the simplest way to naturally improve indoor air quality. Studies have shown indoor air quality can be just as harmful, or worse, than outdoor air quality. This is especially true if you've been cooking more meals at home, like so many of us have been doing this past year.
Letting nature give you a helping hand is kind of a no brainer, but a very important step on your spring cleaning checklist. You might even want to add it to your daily list of things to do.
In addition, don't forget to bring in a few plants to help you even further. While there are numerous air-purifying plants (english ivy, spider plants, aloe vera, bamboo, palms and more) you can use to improve indoor air quality at home, I love the idea of this hydroponic smart garden you can mount on your wall.
Replace Those Air Filters
Airing out your home only goes so far in improving indoor air quality. You also need to regularly replace the air filters in your home. This way, you'll be recirculating clean, fresh air rather than dirty, potentially toxic, air.
Go Room By Room
If you have a lot of spring cleaning to do, I recommend planning your cleaning on a room by room basis, instead of trying to tackle cleaning and removing all the clutter from your entire home in one weekend or one day.
This will allow to you to do a more thorough spring cleaning. It also gives you a feeling of accomplishment after you finish each room or area.
Of course if you're feeling up to it, and you don't have a large space, no harm with making a day of it. What's important is to get the job done and to do it well.
Divide and Conquer
When I say divide and conquer I really mean two things. First is to divide the items you no longer intend to keep into a donation pile, a reuse/repurpose pile and a "can't figure out anything else to do with it because it's broken or worn beyond repair, so I have to trash it" pile. The last one, of course, should have the least number of items in it.
My second meaning, when I say divide and conquer, is to get your family involved in jumpstarting your spring cleaning. Each person can be assigned a room or task and, then using list you put together, you can get started. This is a smart way to tackle more space in a shorter period of time.
Remember to Clean Your Closets and Garage
Although closets, cupboards and cabinets are not always visible, you need to clean these out too. Store clothes you no longer need. If you're in California, you can pretty much pack your "winter clothes" away. Of course, keeping a raincoat handy might not be a bad idea.
By doing this, you might even find some things you forgot you had and can now put to good use.
Avoid Bringing in Toxic Materials
When cleaning and decluttering a home, it's important to avoid bringing in toxic materials. This is true, not just while you're cleaning, but afterwards too. If you plan on getting new carpets, rugs, drapes or furniture, look for natural and eco-friendly, non-toxic products. Low VOC is the way to go. When it comes to furniture, consider buying sustainable pieces made with reclaimed wood and other environmental-conscious materials.
If painting is in your future, shop for organic and no or low VOC paints. The last thing you want to do after spring cleaning your home is to bring in harmful toxins.
Decide to Use More and Buy Less
One last step you should take to help minimize the need to do a major "spring cleaning" every year, or even throughout the year, is to make the decision to buy less and use more of what you already have. Using and/or repurposing items around your home can also help prevent unnecessary waste.
If you step away from the single- or one-use products and opt for reusable instead, you'll spend less too. Plus, reusable is far better for the environment than disposable.
Schedule "Spring Cleaning" Throughout the Year
While everyone does spring cleaning differently, it's an important action to take to help keep you and your family healthy. Reducing indoor toxins and improving air quality inside your home, not to mention natural cleaning of surfaces throughout the house, can be beneficial for all.
It's for this reason I recommend scheduling "spring cleaning" periodically throughout the year. As you get into a normal routine, you'll probably find spring cleaning and de-cluttering takes a lot less time. You may even find new steps to take, or areas to tackle, each time through.