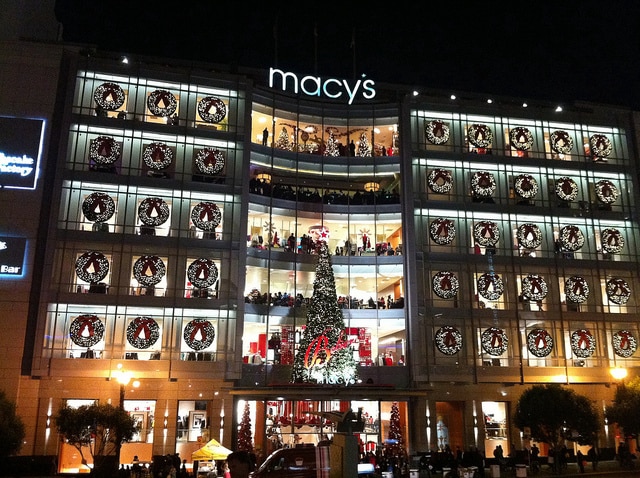 7 Green Holiday Shopping and Gift Ideas
Image by Jenn Deering Davis / Creative Commons
December is here and the holidays are just around the corner. Before you know it, the holidays will have come and gone and we will be ringing in the new year. But for those of you (me included) who haven't managed to finish their holiday shopping, here are some green holiday shopping and gift tips that may help you wrap things up and do so in a relatively "green" fashion.
1) I am a strong advocate of making lists. Before you go out shopping for presents, food for a family gathering or holiday party, make a list and check it twice. Don't forget to make a list of not only what you need, but where you need to go in order to get it. This way you can plan out your entire day, spend less time, waste less gas and be back home in no time…hopefully with your entire list checked off.
2) Do your last minute shopping online, especially if you have items that needs to be shipped. Think about it. This one is kind of a no-brainer. Rather than driving out to the mall, wandering around trying to find the exact right item, buying it, buying wrapping paper and packaging materials, going home and wrapping everything up, taking it to the post office and shipping it so it arrives on time. Whew! Shop online as it saves a lot more time, they ship it for you, and many sites, like Amazon, have eco-friendly shipping options.
3) Don't get sucked into the hype. Not everyone needs the latest and greatest, brand new item to hit the holiday season.
Image by Clint Currier / Creative Commons
Don't get me wrong, I'm sure a lot of people love to get stuff like that, however, that doesn't mean all gifts need to be brand new. Sometimes refurbished or gently used is just as good as new, and it is less expensive. Besides in the reduce-reuse-recycle scheme of things, doesn't that make more sense?
4) Donate during the holidays. There are many people in the world, and even in your own neighborhood, who are less fortunate than you. During the holiday season take some time and donate. You don't have to donate money, you can donate goods, donate your time, and even donate your specific professional skill.
You can even donate as a gift to a friend or loved one. The neighbor who needs help repairing the fence would probably much rather have your help, than have you buy them a hammer. The dad who would rather spend the day with you instead of getting another tie to stick in their closet. There are tons of ideas and ways you can donate.
5) Get creative with wrapping. It's probably no surprise that wrapping paper is a big waste. Because of the dyes, non-paper additives and other materials that go into making up wrapping paper, most of it is non-recyclable.
Image by Julie Magro / Creative Commons
Instead of investing in something that will only get one use before it goes in the trash, how about buying reusable wrapping or using different materials, fabrics, reusable bags, and ribbons you have around the house. It's a fun way to wrap and it is better for the environment. My mother-in-law is really good at this. In fact most of our gifts come in the same boxes/bags, year after year, holiday after holiday. Works for me!
6) This may seem like an odd shopping tip to some people…smile. That's right. Smile while you're shopping. Not only will it lift your spirits, but it will help lift the spirits of people around you as well. And there really is no less expensive way to brighten someone's day than to smile. My guess is you'll find your shopping adventures will be more enjoyable and time will past quickly.
Image by LizMarie / Creative Commons
7) Visit your local farmers' markets, not only for fresh fruit, vegetables, flowers and other goods, but for handmade gifts as well. There are a number of very creative gifts you can find at the farmers' market. If you buy items, you are supporting your local community. If you don't, you still may come up with some great ideas of gifts you can make yourself. Definitely a win-win!
Those are my 7 simple, green holiday shopping and gift ideas for this year. Take them to heart and I bet you will have a greener, more biofriendly holiday season! Don't forget to share your green holiday shopping and/or gift ideas too.