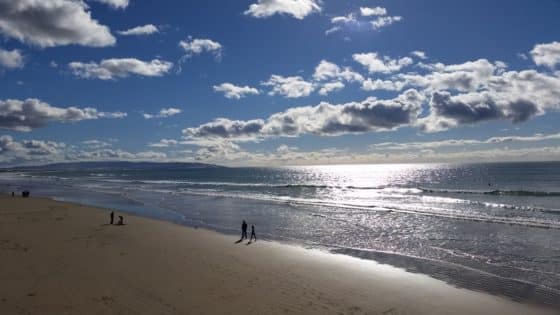 Going Green: Coastal Cleanup Day
Going green by protecting our world's rivers, streams, lakes and oceans is an issue of which we all need to be concerned. The Los Angeles Times recently reported on a study which found the scent of plastic trash makes fish think it's food.  Pretty scary, particularly when you realize that once we eat the ocean life, we also ingest the plastic into our own bodies.
It is for these reasons and more the Ocean Conservancy and Heal the Bay are urging people around the world to join together for Coastal Cleanup Day. Last year a reported 18.3 million pounds of trash and plastic debris was picked up along coastal areas, riverbeds and shorelines in a matter of only a few hours. This is a staggering statistic.
Plastic Oceans: Facts and Figures
According to Plastic Oceans,  close to 300 million tons of plastic items are being produced every single year. An estimated 50 percent of these plastic items are single-use. Think about that. Nearly 150 million TONS of single-use plastic items are manufactured yearly. Then, close to eight million tons of plastic are dumped into our oceans on a yearly basis. It's insane!
Yes, single-use plastic items may be cheaper in the store, but the overall cost is staggering. Cost to the environment, as well as our cost for cleanup, etc.
Here are a few more facts and figures from Plastic Oceans to mull over:
We use 500 billion plastic bags annually
At least 1 million plastic bags are used every minute
We have produced more plastic in the last 10 years than the entirety of the last century
Packaging accounts for 40 percent of the world's plastic use
It takes approximately 6 times the amount of water to make a plastic water bottle as is contained in the water bottle itself.
Fortunately, some companies are turning ocean trash into running shoes and sunglasses.  If more companies were able to find a way to reuse and recycle materials into products we all could use, we'd be much better off.
Where You Can Attend a Coastal Cleanup Day Event
Those who live in my neck of the woods (Santa Clarita Valley) can volunteer to help clean up the local riverbeds. The annual River Rally cleanup goes a long way towards beautify our area, but also in helping prevent trash and debris from flowing into local waterways and, eventually, the ocean. This event goes from 8am to 11am.
If you live in the Los Angeles area or in Southern California, Heal the Bay has numerous locations along the coast where you can join in and help. These events are on Saturday, September 16th between the hours of 9am and noon.

For those in other locations around the world, you can go to the Ocean Conservancy website to find a cleanup location near you. NOTE: If you don't have a location in your area, you are welcome to propose your own.
Going Green: Actions You Can Take to Limit Plastic Waste Use
Cleaning up and beautifying our oceans and local sources of water is essential. If we're going green though, we also need to backtrack a little bit. How did all of that plastic, trash and other waste products get into the oceans in the first place? It was us. We, as humans, are the ones who need to take steps to minimize plastic waste. So, in addition to attending a coastal clean-up event near you and recycling whenever possible, we recommend going green by incorporating these simple actions into your daily routine:
Buy a reusable water bottle and use it instead of plastic bottles.
Ditch the one-use items you may buy regularly and go for reusable instead.
Pack food in your own containers when going somewhere. This will minimize waste and help keep food fresh.
If you drink coffee, bring a reusable coffee cup. This works well whether you are at work and need a mid-day coffee break or stopping at your local coffee kiosk on the way to or from work.
Bring reusable bags to the grocery store.
Ditch plastic straws and opt for stainless steel or glass instead.
Find zero-waste, bulk buy markets to help minimize plastic waste further.