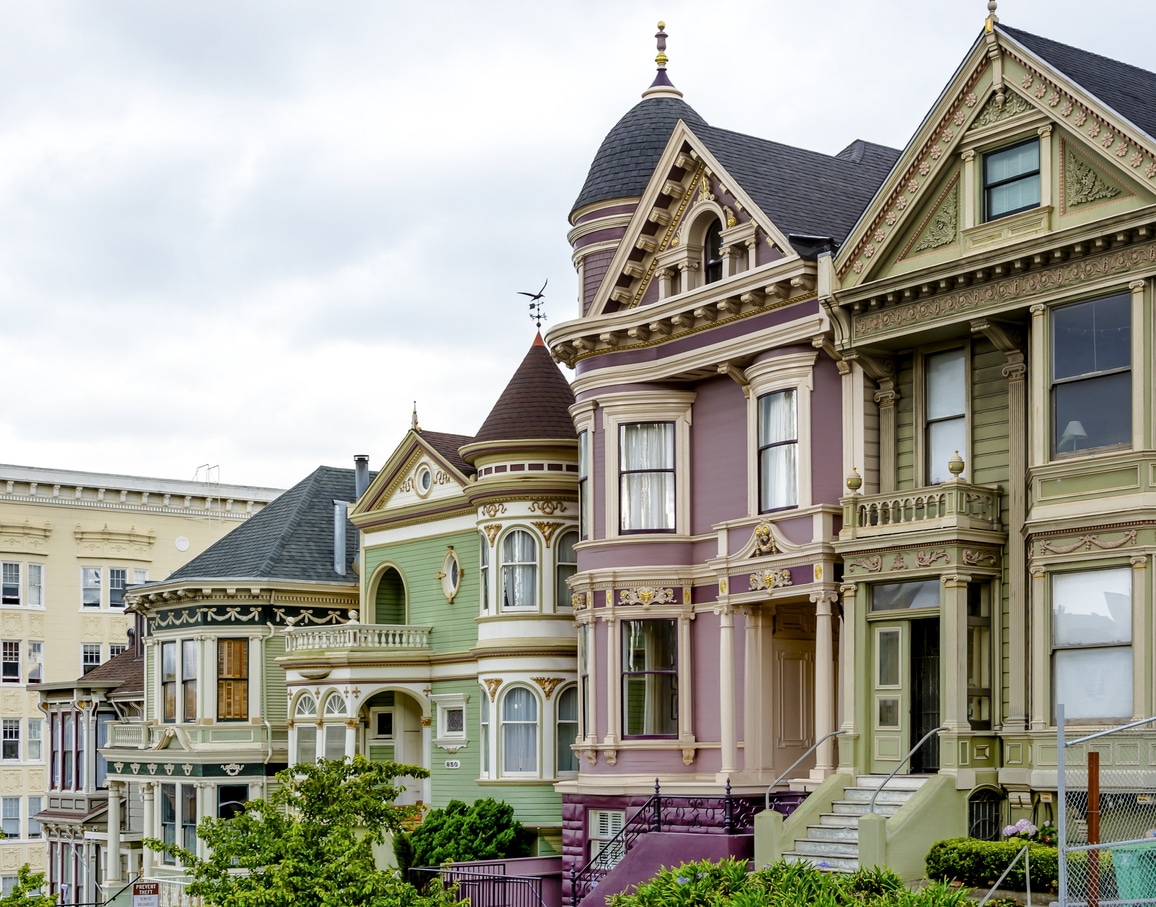 Eco-Friendly Ways You Can Improve Your Period Home
When it comes to sustainable living in the age of climate change, we still have much to learn. A sustainable home is an efficient home, which has been built or retrofitted in such a way to respect the Earth's resources, optimize energy and water use, and to last for the long term. The question is how can you improve on a period home or older property to make it more sustainable? Fortunately, we've got a few eco-friendly ways you can do just that.
Older Properties Must Be Factored In
Many UK homes, and particularly older properties, are woefully inadequate when it comes to energy efficiency and sustainability. This is a problem because over a third of homes standing today were actually built before World War II. The infographic below tells a more detailed story.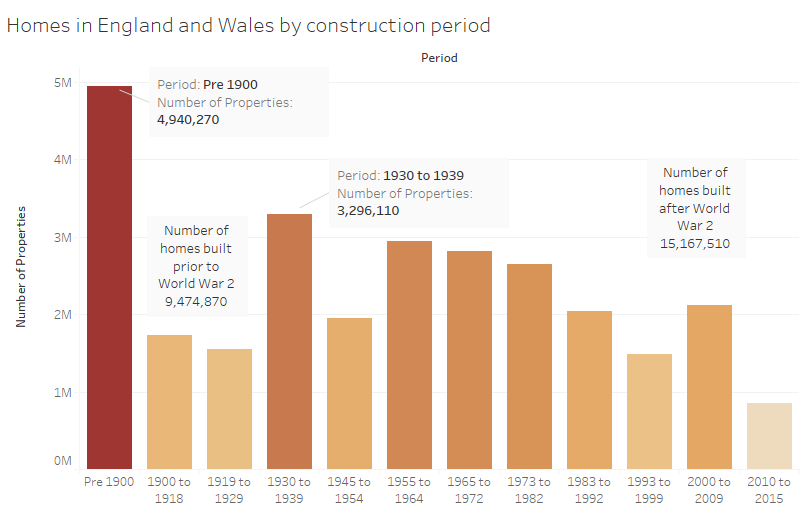 According to Dr Adrian Olivier, Chair of the Historic Environment Forum at Historic England, the heritage sector's role in creating a low carbon, green future is seriously underestimated. In the 2020 Report 'Know Your Home Know Your Carbon – Reducing carbon emissions in traditional homes', he says:
"Caring for and conserving our heritage must include living sustainably and avoiding carbon emissions. By conserving and regularly repairing and maintaining historic buildings, we extend the lifespans of existing resources and of our homes. This reduces the pressures on limited natural resources by reducing demand for raw materials whose production involves new high carbon emissions. By conserving historic homes, we eliminate the need for huge amounts of new carbon emissions and reduce needless waste by recycling and re-using existing materials."
Making Your Home More Sustainable
So, as the owner of a period property, what can you do to make your home more sustainable? It's safe to say the Victorians and Edwardians had no environmental concerns when it came to house building, which makes the contrast to today's focus on energy efficiency, the prudent use of resources and low-impact, high-performance building materials all the more striking.
There are lots of things you can do to make your modern home more sustainable, but in this article, let's explore some practical ways you can lower your carbon footprint while improving your period home.
Upgrading Doors and Windows
Old external doors and original windows can be a major source of heat loss. Ill-fitting front and back doors, as well as poorly maintained sliding sash windows, let warm air escape and cold draughts in. The presence of single glazing only adds to the problem. These uneconomical doors and windows provide little in the way of energy efficiency and cause heating bills to be much higher than they should be.
Upgrading your doors and windows doesn't necessarily mean replacing them with modern uPVC versions unsympathetic to the period architecture. With the help of expert craftspeople, there's much that can be done to draught proof, recondition and restore original features. Installing double glazing is also an option.
As one period window specialist explains: "Using specialist manufacturing techniques, we can breathe new life into your timber sash windows. Not only will this help to stop draughts and water ingress into the building, you'll also see a welcome reduction in your energy bills as a result."
Draught Proofing Your Home
Of course, it's not just doors and windows which can cause draughts. From your letterbox to cracks in the wall, gaps around pipework or in floorboards, any openings to the outside can let warm air out and cold air in. Here's a good illustration showing where heat loss most commonly occurs: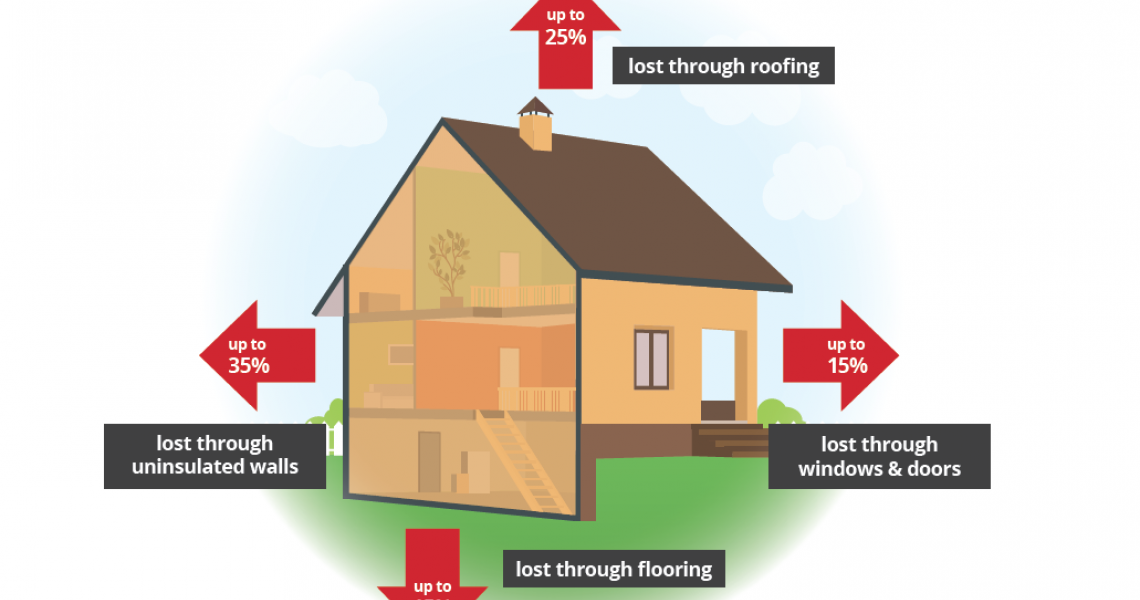 The good news is draught proofing isn't difficult to do. Professional draught proofing costs in the region of £80-£300, depending on the size and location of the property. That said, there are many simple techniques pretty much anyone can carry out, such as:
Sealing gaps by using self-adhesive draught excluder compression strips around door and window frames, or brush strips screwed to the bottom of the door.
Fitting thermal curtains in thick fabrics to fully cover your draughty windows or doors and keep the heat in.
Fitted carpets are an excellent way to stop heat escaping through the floor, and adding underlay compounds the thermal insulation.
Additional draught proofing for external doors by using keyhole covers and a letterbox cover with internal brush.
Improving Your Loft Insulation
Not many people know a quarter of heat loss happens through the roof, which makes up-to-date loft insulation one of the most effective ways to increase your property's energy efficiency. Current UK Government recommendations are for loft insulation to have a depth of 250-270mm, and up to 300mm thickness is recommended.
Loft insulation can be made from fibreglass, mineral wool, sheep's wool, hemp, recycled materials, foam and more. A layer of insulation can be laid between the joists on the attic floor which can then be covered with insulating floorboards. As long as you leave an air gap between the boards and the loft insulation material, any moisture should dissipate and the insulation can do its job.
Good loft insulation will really help to reduce your property's carbon footprint. Less heat loss means less heating is required to reach a comfortable temperature in the home, reducing the amount of fossil fuels (assuming you have gas or oil central heating) used.
Changing Your Central Heating System
Central heating boilers have a lifecycle of about 15 years, so if yours is showing signs of age, it could be a good idea to replace it with a more energy efficient upgrade. Old gas boilers can lose an enormous amount of heat while modern combi boilers are some of the most energy efficient appliances around. The difference in heating bills can be as much as £400 per year for a detached house.
A more radical, green change is to replace your boiler with one that doesn't burn fossil fuels. Ground source heat pumps, air source heat pumps and biomass boilers are all good options to reduce environmental impact, but installing this technology does come at a price. The Government recently set out plans to offer £5,000 grants to some households to install heat pumps, as part of its plan to reduce the UK's reliance on fossil fuel heating.
Other Effective Ideas
According to the illustration above, just over a third of heat loss occurs through the walls. Cavity wall insulation is the most common and cost-effective way to deal with this, but houses built before World War I are unlikely to have cavity walls. The alternative, solid wall insulation, is far more complex, having to be either done from outside or inside.
External wall insulation will change the appearance of the property, which may or may not be a good thing. Internal wall insulation is a disruptive job requiring the re-siting of skirting boards, window sills and frames after the installation of the insulating layer. Bear in mind your period property may be located in a Conservation Area or be a listed building, in which case external insulation may not be permitted. The same goes for other green initiatives such as solar panels visible from the street.
Finally, adding smart technology to your period home can help to shrink your carbon footprint. From smart meters and thermostats to full home automation systems, it's a great way to conserve energy, lower your utility bills and protect the environment.