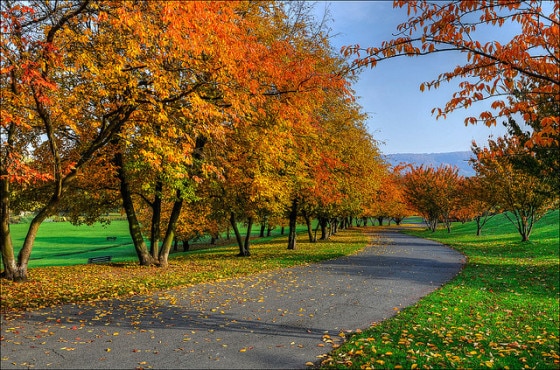 20 Eco-Friendly Activities For When Time Falls Back
While sleeping in will likely top the list of things most people want to do when Daylight Savings Times comes to an end this Sunday morning (November 6th, 2016), we wanted to give you a few other options. Gaining an extra hour means you can start your day off bright and early. Yes, you could do a little work. You could run some errands. You could even make some headway on fall cleaning, aka holiday preps. I mean, you do "gain" an extra hour, so you might as well make the use of it, right? Well this year, why not take the time for yourself? Do something good for you, for your family, for your health, for the environment. We've come up with some eco-friendly activities you can enjoy when time falls back.
Eco-Friendly Activities to Do When Daylight Savings Time Ends
Get outdoors…even if just to breath in a little fresh air. Trust me when I say fresh air has many health benefits.
Go for a walk, jog or bike ride.
Leave the car at home and take a day trip using public transportation – bus, subway, train, etc.
Go on an early morning, family hike.
Collect some fallen leaves to incorporate into indoor decorations or a nice table centerpiece.
Do some fall gardening.
Make an eco-friendly bird feeder to hang in the yard.
Air out your home – let all the stale air out and fresh, cooler air in.
Make a few natural, DIY cleaning products. Even if you don't start cleaning your home on Sunday, you can at least be prepared with some natural cleaners so you aren't adding harmful toxins into your house.
Go to the farmer's market to pick out some locally-grown food to use in your weekly meals.
Take some time to plan out your meals for the week. Eating at home is a much healthier option, saves you money and is far more eco-friendly than eating out.
Make yourself a breakfast smoothie or juice using fresh, organic fruits and vegetables.
Do an arts & crafts project with your kids using leftover Halloween decorations, costumes and other materials you have around the house (good way to show kids how to reuse and re-purpose).
Declutter your closets. Once done you can either donate items you no longer need or find out how to re-purpose those items.
Make some DIY bath salts. These will not only be good to have around the holidays when stress levels often rise, but can also make great gifts.
Give yourself a spa day. You can use the DIY bath salts, as well as other natural products. Here are a few do-it-yourself organic spa treatments to get you started.
Cash in your recycling to give yourself a little holiday spending money.
If you don't have a recycling bin, get yourself set up with a recycling bin, compost bin and trash receptacle (the smallest of the three). Making plans to cut down on food waste during the holidays is a very biofriendly thing to do.
Put together "air freshener bags" which can be used instead of chemical, store-bought fresheners to bring a pleasing scent to your home throughout the holidays. Be sure to use natural products like pine cones, berries, cinnamon sticks, oranges, essential oils and whatever other scents you enjoy. These can also be used as host/hostess gifts, in gift exchanges, as well as for family and friends.
Take your "extra hour" at the end of the night and use it to lay outside and watch the stars. To me, nothing is quite as peaceful as being outdoors, under the stars, with family and friends (or even on my own).
Remember to Turn Your Clocks Back
As Daylight Savings Time comes to an end early Sunday morning (2am), you might want to turn your clocks back an hour, right before you go to bed on Saturday night. Then, you'll wake up on time and be able to do a few of the eco-friendly activities we've mentioned above. If you have some of your own, that's good too.