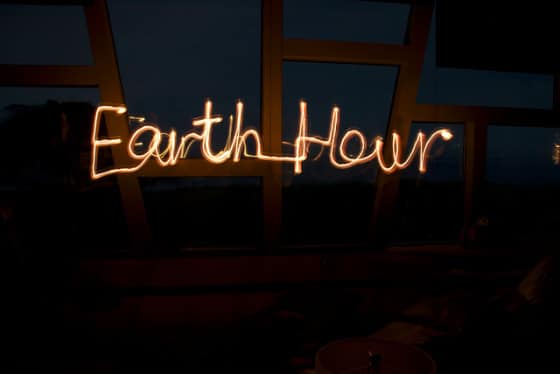 Earth Hour 2015: We Have the Power to Affect Climate Change
Each year between 8:30 and 9:30pm local time on March 28th, millions of people take the time to show their commitment to protecting the earth and its people by participating in Earth Hour. Last year, the impact of Earth Hour was widespread:
162 countries and territories participated in Earth Hour
7000 or more cities and municipalities also get involved
70+ million global digital interactions took place
1.2 billion tweets included the hashtag #EarthHour or the term "Earth Hour"
More than $61,000 was crowdfunded on Earth Hour Blue
60 countries took action to go beyond the hour
163 cities participated in the Earth Hour "We Love Cities" challenge
This year, the Earth Hour message is all about you and me having the power to affect climate change.
Earth Hour 2015 is about the world's people joining together to make an impact, make a difference, incite a much needed change. To start, 163 cities in 17 countries around the globe participated in this year's Earth Hour City Challenge. If you live in one of these cities, sending in photos and videos, as well as sharing information on the sustainable actions your city is taking, could move your city from a finalist position to being named as the sustainability leader for your county. Your city could even become the global Earth Hour Capital! Here are the 2015 Earth Hour City Challenge finalists:
— Brazil: Belo Horizonte, Rio de Janeiro, São Paulo
— Canada: Edmonton, North Vancouver, Vancouver
— Colombia: Bucaramanga, Monteria, Santiago de Cali
— Finland: Espoo, Lahti, Tampere
— France: Besançon, Nantes, Paris
— India: Pune, Rajkot, Thane
— Indonesia: Balikpapan, Jakarta, Semarang
— Malaysia: Petaling Jaya, Shah Alam
— Mexico: Puebla, Hermosillo, Toluca
— Singapore: Singapore
— South Africa: Johannesburg, Nelson Mandela Bay, Tshwane
— South Korea: Changwon, Seoul, Wonju
— Spain: A Coruña, Córdoba
— Sweden: Eskilstuna, Gothenburg, Västerås
— Thailand: Hatyai, Khon Kaen, Mapammarit
— United States: Cleveland, Evanston, Seattle
What can you do this Earth Hour?
Take a moment to join the movement.
Make the commitment to turn your lights off and power down for Earth Hour.
Decide on other ways you can use your power to take action.
Join one of the many Earth Hour events taking place around the world. You can use this Earth Hour tracker to join in on the celebration.
Add your voice to the movement online and via social media. Use the hashtags #ChangeClimateChange and #YourPower.
Get involved in Earth Hour Blue through crowdfunding and crowdsourcing, or contribute to other projects that are having a positive impact on the Earth and addressing key environmental issues.
Share information with friends and family about an Earth Hour project close to your heart.
Afterwards, actions like planting a tree, saving energy, conserving water, composting, eliminating food waste, recycling, reducing harmful emissions, and lowering your environmental impact can all help make a difference. Remember, the intention behind Earth Hour is for it to be a launching platform from which the global community can begin building towards a more sustainable future. So, participate in Earth Hour and join the global movement. Help its impact expand far beyond what can be done in a single hour. Use your power to change climate change.
Glowing Earth Hour image by Christian Haugen via Flickr Creative Commons license.