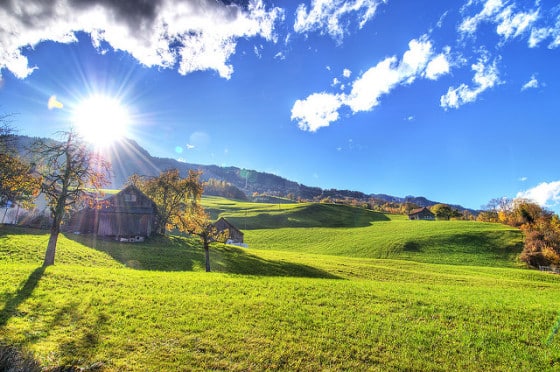 Earth Day: What Is Your Act of Green?
Each year, on April 22nd, people all across the globe join together to celebrate Earth Day. The day itself is actually the anniversary of what many consider to be the modern-day environmental movement. This year marks the 47th anniversary of Earth Day and in it's honor, millions of people around the world are being asked to make the commitment to do what they can to bring about environmental and climate literacy by 2020.
While this goal may seem like a lofty one, it is much needed. If we don't take a stand and fight for our environment (and ourselves in the process), who will? As a Native American proverb states, "We do not inherit the earth from our ancestors, we borrow it from our children."
Earth Day Acts of Green
So what are you going to do this year? How are you going to make a difference? Well, you can start by getting behind one of the various Earth Day Network campaigns currently in progress.  Then I recommend you choose one (or more) of these Acts of Green. As of right now, the Earth Day Network has recorded over two billion Acts of Green from people like you and me. This year's goal is three billion! Are you in?
Go out and plant a tree. If you can't do that, donate money to have a tree planted in your name or the name of a loved one.
Figure out how you can reduce your carbon footprint and do so.
Drive less and use public transportation more. You can also use Biofriendly Corporation's liquid fuel catalyst to help you reduce vehicle emissions and increase fuel economy.
Eat less meat. Even forgoing meat once a week helps.
Stop using disposable, one-use items and opt for reusable instead. This can include plastic bags, cups, bottles and more.
Work to reduce, reuse and recycle as much as possible.
Consider opting for renewable energy sources like solar, wind and micro-hydro.
You can also create your own act of green this Earth Day.  The options are limitless.
Taking Earth Day One Step Further
For those of you who want to take Earth Day one step further, check out the various toolkits the Earth Day Network has available. In addition to joining an already existing event in your community, you can download a toolkit designed to help you organize your own event. You can even download a toolkit to help you put together your very own "teach-in". Want to get local government involved? There's a toolkit download for that. Parents and educators can get their schools involved by incorporating environmental curriculum into their lesson plans.
Any step you take along this path, whether it be prior to Earth Day, on Earth Day or afterwords can help reach the 2020 goals of attaining environmental and climate literacy.