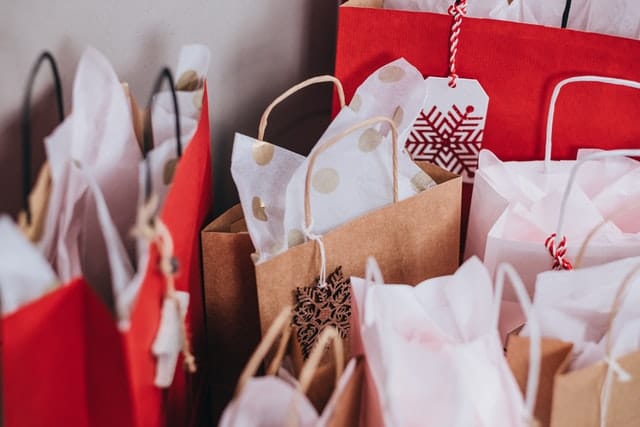 Biofriendly Holiday Shopping Tips
The holiday season is almost here and, according to predictions, holiday retail sales are expected to increase quite a bit this year. While Covid-19 restrictions and safety precautions will likely send the majority of shoppers online, you'll still want to start planning your holiday gift-giving now, if you haven't done so already.
Planning ahead gives you the ability to not only make sure your gifts have time to get to their intended destinations, but also affords you the time and ability to shop in a more biofriendly manner.
That's why in this Biofriendly DIY segment we go over some biofriendly holiday shopping tips to help you be a little more creative with your gift giving this year.
Narrow Your Holiday Gift List So You Can Shop for Less
My first recommendation for this year's holiday shopping is to narrow your gift list a little. As most people won't be doing large gatherings, it's likely the number of gifts you need to buy will already be less. Beyond that, really take a look at who needs to get gifts from you. In some instances, a card and/or a phone call may be the way to go. Just take a look and see. You might surprise yourself.
DIY Gifts
DIY gifts are a great way to go, especially this year. Instead of spending money on the "latest and greatest", big-ticket items, make your gifts a little more personal. You can make a DIY, at-home spa set for that friend who really deserves a trip to a spa. Make a fresh air basket filled with a variety of DIY air fresheners for the friend who just can't decide whether they like the smell of the woods better or they'd prefer more of a traditional holiday scent. Make a nature wreath for your neighbor. You can make a meal for a loved one. The options are endless.
Don't Let "Regifting" Scare You
One of the easiest ways to kind of repurpose items you don't have a use for is to regift items you won't use. We all get gifts we know we'll never use. No offense to the gift givers, it's simply a fact. Sometime, over the course of your life, you're going to receive a gift you don't want. Well, that's okay. It's the thought that counts. The best thing to do is to accept the gift graciously and then regift it to someone you think will enjoy it or be able to use it.
I know regifting has gotten a bad wrap in the past, but don't let regifting scare you. There is bound to be someone you know who can make good use out of your gift.
Buy Antique or Second-Hand with Meaning
If you're going to buy gifts for family and friends this year, rather than buying new, consider buying second-hand or antique items with meaning. Find all old dresser like the one your mom used to have when she was younger. Get your dad an antique watch like the one he always had while you were growing up. Find that china pattern your sister-in-law always wanted to have, but was no longer being made.
You may need to put a little extra time and thought into these types of gifts but, in the long run, it's well worth the effort. Plus, buying second-hand is good for the environment, so it's a win all around.
Buy From Family and Friends
With so many people being out of work, it's likely you have family and friends with businesses struggling to keep up. Reach out to these people and see if there are holiday gifts you can buy from them. Doing so is a great way to help them in trying times and yet still get your loved ones something they will enjoy.
You can even take it a step further. Spread the word via social media about your friends and family who have stores, online or brick and mortar, where people can shop for holiday gifts.
We need to help each other out right now. This is a simple, yet powerful, way to do so.
Send Gifts Ahead of Time
Part of the holiday shopping process, especially now that a majority of your gifts may need to be sent to family and friends, is arranging shipment. If you do your planning and shopping ahead of time, you can package everything together and arrange eco-friendly methods of transportation for your holiday gifts. You won't need to do last minute, over-night shipments.
If you've got friends and family living near each other, consider shipping to one address and asking if the recipient will be willing to deliver some gifts to others nearby. It'll save you packaging, money and time. It's also a great way to make sure your package gets delivered…contact-free delivery, of course.
Donate to Those in Need
While you're probably going to save some money this year on gifts, don't forget to donate to those in need. If you're fortunate enough to have a job, be making money and have your health, consider giving to someone who hasn't faired quite so well.
Your gift doesn't need to be money. You can donate clothes you no longer wear. You can donate furniture. You can gift your elderly neighbor with a home-cooked meal. You can run errands for someone. You can donate your time to mend a fence for a friends.
As the holiday season in the United States pretty much starts with Thanksgiving, remember to be thankful for all you have and be willing to share what you no longer need with others.
Be Generous With Your Random Acts of Kindness
On that note, please make an effort to be generous with your random acts of kindness this holiday season. So many acts of kindness don't cost anything at all, other than maybe a little bit of your time. These acts do, however, create a big impact.
It's not always easy to know what other people may be experiencing. A simple wave to say hello, a virtual hug, a personal message left on someone's door or a lending hand when someone's down, may be all it takes to turn their day, week or the rest of 2020, around.
Keep these biofriendly holiday shopping tips in mind this year when you're looking for gifts for family and friends. Don't forget to spread around some holiday cheer, too, it's free and of benefit to us all!