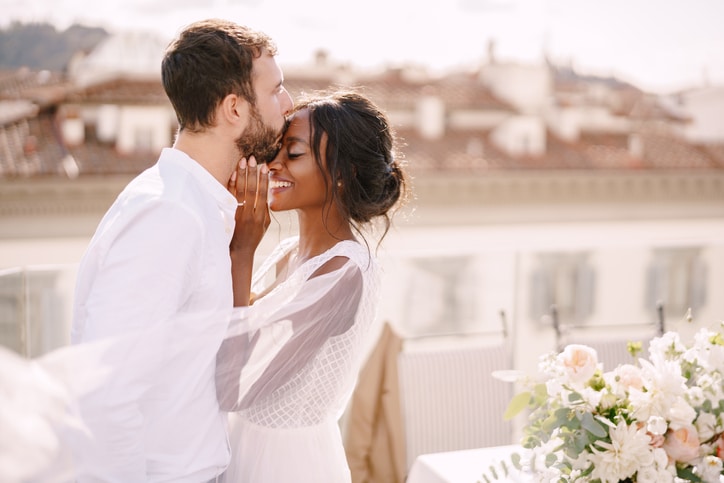 A Guide to Making Your Wedding Day More Sustainable
We all deserve to have our dream wedding day. Unfortunately, the wedding industry can be extremely wasteful. Luckily, there are so many things you can do to make your wedding day more sustainable, so you can enjoy the day without any guilt about the environmental impact it could be having! With these simple changes, you won't have to compromise on your dream wedding at all. In some cases, it will make the day even more special.
So, if you're looking for some inspiration about simple and affordable changes to make your wedding day more sustainable, you're in the right place!
Keep Your Guest List Intimate
One of the easiest things you can do to make your wedding day more sustainable is to keep your guest list small and intimate. Having a wedding with less guests is far less stressful and your budget will be smaller. In addition, it is likely to be more relaxed, thus allowing you more real time with your loved ones and more flexibility when it comes to your venue. Plus, we haven't even gotten onto the environmental benefits yet!
Quite simply, when you have fewer guests, there is less waste. There will be less C02 emissions, as less people will be travelling to the wedding. Less electricity will be required to prepare the food. There will also be less food waste, less plastic and generally less rubbish. Having a small, intimate wedding is one of the best things you can do for the environment.
Rent Your Wedding Outfits
Your next option to make your wedding day more sustainable is to rent your wedding outfits. We all know single-wear items of clothing are wasteful, as the process taken to create them is damaging and then usually, they will end up never being worn again. This is the case when it comes to wedding outfits, especially intricate suits and dresses that take a long time and a lot of material to create. So, a great alternative is to rent your wedding outfits.
Firstly, renting the wedding outfits will prevent this waste from occurring. The quality is usually amazing and looks brand new. Also, wedding dresses and suits are very expensive, so by renting you could access quality outfits you might not have been able to afford to buy outright. Not to mention, you'll save a lot of money and you won't have to worry about trying to store, clean or preserve it afterwards! You can access a stunning dress at a low cost without damaging the environment. That's pretty special, right?
Opt For Vintage Jewellery
When it comes to choosing your wedding rings (or the engagement ring for your partner, if you haven't quite reached that stage yet), the most eco-friendly option is to choose vintage jewellery. Whilst lab grown diamonds are more and more common, the manufacturing process involved will still cause damage.
With vintage jewellery, whilst the process used to extract the gemstones and metals would have been damaging, the process would have been far less damaging than modern equivalents. Equally, this helps to break the cycle of jewellery production, as no new resources are needed to create the jewellery. This makes it one of the most sustainable options. Plus, it would be a massive shame for the beautiful pieces of jewellery to go to waste when they hold so much historical significance and are of the best possible quality thanks to unparalleled craftsmanship.
One final benefit is vintage jewellery is much more affordable than modern equivalents as it is VAT exempt! The beauty and history of vintage jewellery should be enough alone to consider it for your wedding, let alone all of the environmental benefits that come with it.
Choose Local, Seasonal Flowers
You might have an idea of the flowers you want for your wedding, although it is likely they are ones you will need to import from abroad. Of course, with this, comes damage to the environment. So, a wonderful alternative is to choose local and seasonal flowers.
Not only are these flowers far more affordable, but they also present a perfect opportunity to fully embrace the season you are getting married in and introduce it into your wedding's aesthetic. Seasonal flowers are breathtakingly beautiful, especially the warmth and depth of autumn flowers and the freshness of spring flowers. Speak to your florist about your options and you are sure to find the perfect fit for your wedding.
Have A Vegan Menu
Offering a vegan menu to your guests is a very sustainable option and it could also instill an interest in the lifestyle! Many people have a negative perception of vegan food as lacking flavour, however this is the perfect opportunity to show people how amazing it can really be. We have put together a show-stopping example menu filled with delicious vegan food. People certainly won't miss any meat and dairy in these delicious meals…
Starter: Curried Squash, Lentil and Coconut Soup with Chilli Croutons
Main Course: Beetroot and Mushroom Wellington with Sauteed Rosemary Potatoes and Seasonal Vegetables
Desserts: Vegan Chocolate Torte with Salted Caramel Ice Cream and a Shortbread Crumb
Final Thoughts
These simple changes mean you don't have to compromise on your dream wedding at all. You will be helping the environment, saving money and potentially encouraging your guests to become more sustainable in their own lives. Now is the time to take action and help our planet, so what are you waiting for? Start planning the eco-friendly day of your dreams!
Author Bio: Daisy Moss is a freelance writer with a particular passion for sustainable living and eco-friendly weddings! When she isn't enjoying time with family and friends, she loves to research new sustainability methods, currently looking at how vintage jewellery is beneficial both environmentally and economically.